Gree Electric Appliances hails updated local subsidy program
Author : Date : 4/27/2018 12:29:37 AM
Zhuhai-based Gree Electric Appliances has praised the city government's new talent policy, which has been hailed as the most generous yet.
Gree started from a small factory in Zhuhai in 1991 and has grown to become the world's largest air conditioning unit manufacturer.
In its annual hunt for 2,000 new employees with talent that best suit the company's needs, Gree's human resources department travels to about 25 cities across China during peak recruitment seasons.
Housing prices have become a key factor for graduates when they decide whether to stay in a city, said Chen Weicai, deputy director of the company's HR department.
Zhuhai has announced its investment in a great housing subsidies deal that is significantly higher than that seen in the city's previous talent policies, according to Chen.
One example is that Nobel Prize laureates or academicians of the Chinese Academy of Sciences or Chinese Academy of Engineering who work full-time in Zhuhai will be given a 2 million yuan ($307,000) award and 6 million yuan in housing subsidies.
As a house appliance manufacturer, Gree is always seeking high-end technicians, and the city's new talent policy shows the local government's focus on craftsmen, Chen said.
The new policy has also boosted subsidies for professionals with doctorate degrees and includes strategies to support their overall cultivation.
Corresponding awards will be given to companies and organizations that foster professionals with prominent abilities, Chen said.
In addition to the beneficial policy, Zhuhai itself has intrinsic advantages given its location in the Guangdong-Hong Kong-Macao Greater Bay Area and on the Hong Kong-Zhuhai-Macao Bridge. Huge potential arising from more skilled workers and information connectivity can be foreseen for the upcoming years, Chen said.
"The move made by the Zhuhai government this time is unprecedented. I see the true passion of the local government to welcome the highest-level talent. They know that for a city the people are the future."
liyou@chinadaily.com.cn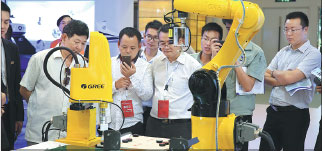 Gree's robot plays chess at an industrial expo in Zhuhai.