Agreement allows China's telecoms, power grid to share towers
Author : Date : 4/27/2018 12:31:43 AM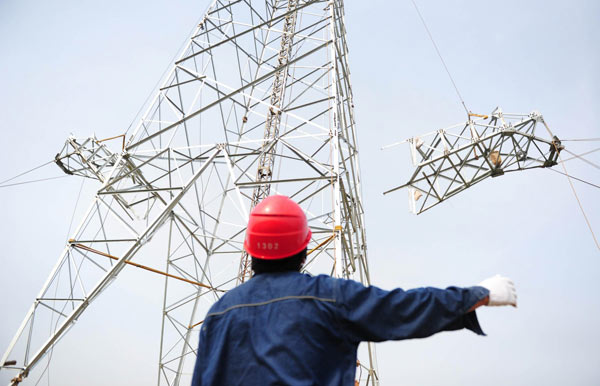 China Tower Corp, a joint venture established to handle the tower assets for China's top three telecom carriers, has signed a strategic cooperation agreement with China's two major power grid operators, State Grid Corp of China and China Southern Power Grid Co Ltd, to share the latter two's transmission towers for construction of its communication base stations.
The sharing of transmission towers, a breakthrough in resource sharing between the utility and telecommunication industries, will not only speed up the construction of 5G, or the next-generation communication network, but also lower the construction costs of communication base stations, said Tong Jilu, general manager of China Tower.
According to Shu Yinbiao, chairman of the State Grid, the country's main power supplier, the company now sees overhead transmission lines in operation of more than 940,000 kilometers.
Feasibility studies and applications on power and communication infrastructure resource sharing have already been carried out by the three companies in Fujian, Yunnan, Hainan and Hubei, with 405 base stations set up so far. The power towers and communication base stations are all operating well so far.
China Tower has marshaled existing telecom tower assets worth 203.5 billion yuan ($32.3 billion) from its clients and shareholders China Mobile Communications Corp, China United Network Communications Group Co and China Telecommunications Corp in 2015. Since then, it has been working on boosting the utilization efficiency of the existing towers as well as stepping up the sharing rate of the new ones.
By installing multiple base stations on one tower, China Tower has saved the three carriers the expense of 500,000 towers, equaling 88 billion yuan less in infrastructure costs and a reduction of land use by 15 square kilometers.